Ochre Mine
Panorama Injet, 36"x 144" [ mounted ]
North of Flinders Ranges, Songline or "Dreaming Path" for the Diyari people, SA, South Australia, 2012.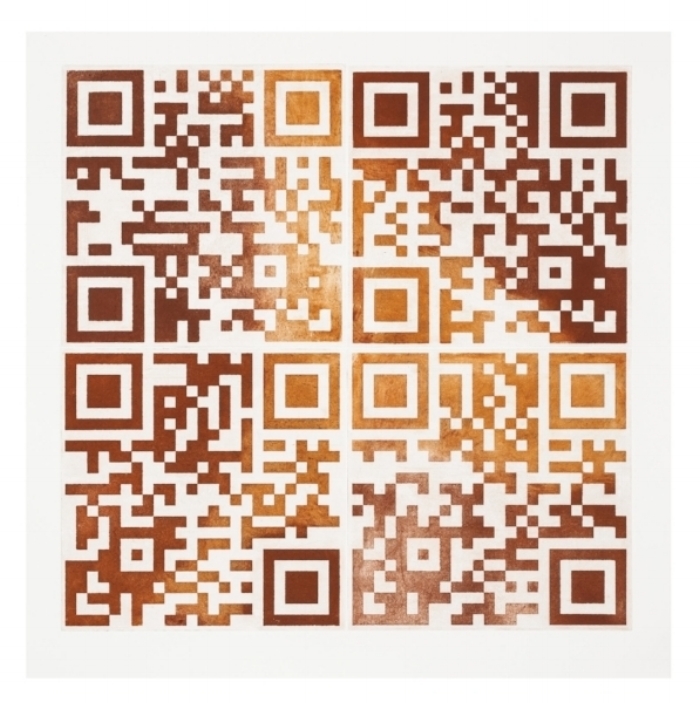 Pigments
eLAND is a series of etchings made from pigment mined by artist int the Australian outback. The pigments are mostly iron ore found along songlines, or dreaming paths in South Australia.
Above: Intaglio on paper, 36" x 60 " with handmade ochre pigment mined by the artist.
QR Codes
When scanned with a smart phone, the QR code links to a display of a photograph where pigment was mined. All the pigments were mined by the artist in the Australian outback
[ Flinders Ranges & South Australia ].
A CNC router cuts out the QR Code on a 24x24" zinc etching plate [ grounded with asphalum ] at a FabLab in Baltimore. The plate was aquatinted at Bob Blackburn's Print lab in New York City before printed at UMBC Print Media facilities.
Global Positioning Satilite
Some codes bring up the location of the mined site, or when selecting the photos, a Google map indicates the mining site.
Stock Data
QR codes also bring up a stock quote displaying how the pigment has increased or decreased in value since it was mined by the artist in July 2012.
++
This project is supported by the Artists' Research Network and Visual Art Center of LaTrobe University in Melbourne, Bendigo Australia and Pyramid Atlantic Washington DC.
Find a printable version of this project here.